Voices from the underground:
Conversation with slovenian black metal project Noč
When I started my conversations with Jan, the body and soul of experimental black metal project Noč, it was the most 'underground' musical initiative that I ever talked to. In february  Noč had three demos, at Bandcamp, and no FB page. It was something like a secret, a treasure lost in the web. Demo III, the album that captivated my attention with a very interesting and mysterious artwork, had a physical private pressing of 20 copies that Jan would give for free 'face to face', a signal that he was not hoping to break the limits of his country  – and was a great surprise to know that the copies were not sold out! We talked for three months and in this meanwhile Noč released two other 'demos' and reactivated his FB page – which shows how dinamic could be the intimate life of an artist.

GM: What's your age?
Jan – I am 19 years old.
GM: How do you describe your sonority?
Jan – If by "sonority" you mean my music, my sound, I'd say I always strive to create something honest and true to myself, through the music, and through the lyrics.
GM: What's the meaning of 'Noč'? is there any story behind the choice of this title?
Jan – It's the Slovene word for night.
GM: I know that 'genres' could be a little limitated, but how would you describe your music in this field?
Jan – I guess I'd say black metal, with a lot of ambient passages and experimentation thrown in, and whatever else I feel like making.
GM: DSBM?
Jan – You could categorize it as DSBM, yes, but that wouldn't be the first word I'd use to describe my music.
GM: What is your first musical memory? And when you started to enjoys music?
Jan – When I was a young child I remember my father playing his old vinyl of Pink Floyd's Dark Side of the Moon to me. That's probably the first time when music really had a deep impact on me, and I've been hooked ever since.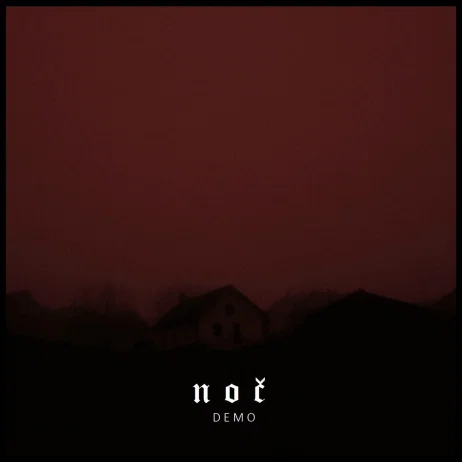 GM: You released three demos (though I'll easily would call then albuns) in 2015. When you started this project and how many time do you spent in each release? They are separated  and individual releases or they have some connection?
Jan – Well, making music, making an album, is a long process for me, and I'm always creating something. I don't really know how much time I spend on an individual album, but it doesn't really matter to me as long as the final product is something true to my "vision". I like the chronological progression of Noč's music as a body of work (Demo I, II, III, …), and although every album I record is meant to be able to stand on it's own, yes, the albums are connected in many ways, most of which aren't very obvious to the listener though, at least not on a first glance.
GM: All your works were released in 2015, but I imagine that you should have started before this.
Jan – Well Noč's Demo was released in January, so most of that was done before 2015, but the other two albums/Demos were written and released in 2015.
GM: Noč is your first musical project?
Jan – I've played in various bands before, but Noč is my main project, and the one I really pour my soul into. Continuar lendo →